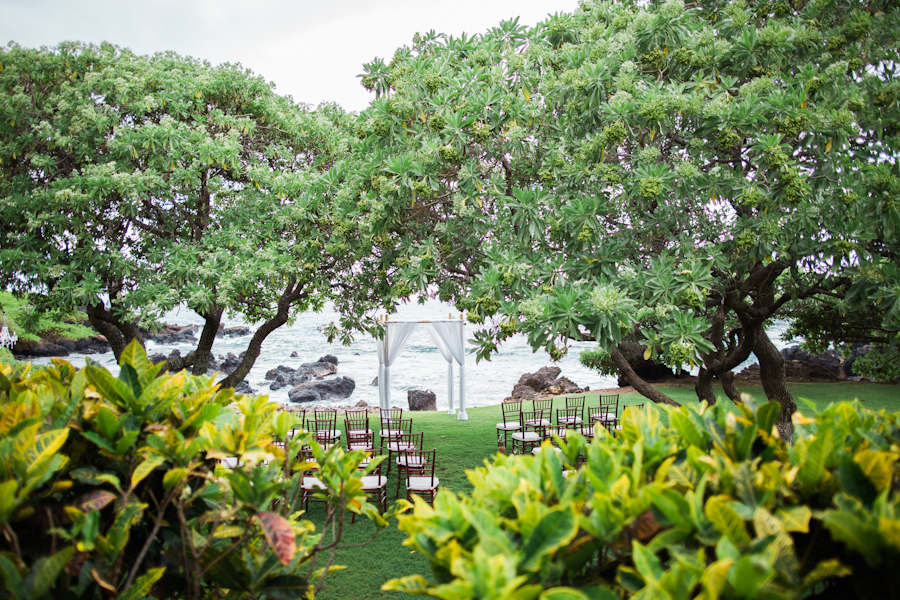 We have another gorgeous Kukahiko Estate Maui wedding to share with you today! With a venue as gorgeous as the oceanfront Kukahiko Estate, Ashley and Joshua chose a sweet and simple approach to their Maui wedding decor with the key feature being the stunning ocean backdrop. Along with the surrounding lava rocks and the breathtaking views, everything was brought together with clean, dainty touches of  white decor throughout.
The bride made her entrance down a pineapple lined aisle wearing a stunning,  fitted gown as her groom waited patiently along with an intimate group of their closest family and friends. The couple chose not to do a "first look" before the ceremony so they saw each other for the first time in this moment. All eyes were on the couple as they professed their love for each other in a touching ceremony performed by Rev. Al Terry.
Minimal white flowers and vintage lanterns set on beautiful wooden farm tables set the scene for a romantic dinner in the warm Hawaiian breeze. The nature and ambiance of Maui provided the perfect setting in which to celebrate their al fresco dinner reception as husband and wife.
It was truly a night to remember, we wish the lovely couple a wonderful life filled with happiness and Aloha!
Maui Wedding Planner: Makena Weddings
Maui Wedding Photographer: Naomi Levit Photography
Minister: Rev. Al Terry
Rentals: Paradise Event Rentals
Venue: Kukahiko Estate